Potential Problems of Aging Elevator
Physical deterioration in aging is inevitable, even if elevators are maintained properly.
Uneven leveling of just a few centimeters can be a safety risk.
If entrapment should happen in the night, the passenger may get stuck in the elevator for a while.
Out of service for a long time caused by an inspection or failure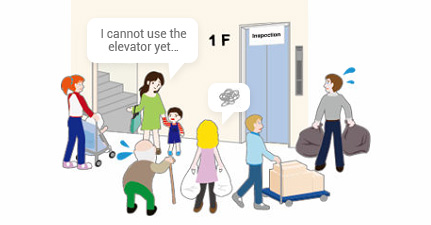 Out of service for a long time may cause user frustration.
Besides elevators, there are a variety of electrical components in the building. Thus, it is difficult to know electricity cost of elevator only.
Advantages
Full Compatibility with Retained Equipment
As the original supplier and installer of your lifts, our products are designed specifically to incorporate safe & smooth operation of the modernized & the retained equipment of your lift system. We provide full warranty from our manufacturing factory for total compatibility and complete technical support for our products. Our products are fully tested in our Factory to ensure safety, smooth riding comfort, reliable and high efficiency.
Short Down Time and Minimum Disturbance
Our modernization package is specifically designed by Mitsubishi design laboratory and equipment are manufactured at short period in order to reduce inconvenience and minimize disturbance to the building tenants.
Smooth Implementation of Work
As the maintenance contractor of your lifts, we ensure smooth implementation of the modernization project with regard to the execution of the maintenance agreement and all kinds of interface and liaison work.
Safety to Meet the Latest Codes
List of proposed additional 8 items for modernization of existing lifts recommended by BCA:
For Singapore code : SS550 : 2009 A3


Electrical Safety interlocking
Light Curtains protection device